Posts Tagged 'big brother'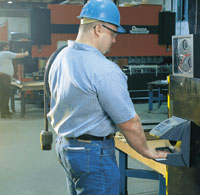 When hourly employees arrive at Greathouse Screen Printing in San Diego, instead of punching a time clock they smile into a biometric facial recognition device that sits on a counter at the front of the shop. In a matter of seconds, the device identifies them, automatically punches them in, and sends the data to a cloud-based time-and-attendance software program.
The company's owner, Shawn Greathouse, implemented the biometric clock from Processing Point Inc. a year ago to streamline his time-management process and to ensure that he was only paying employees for the hours they worked.
"Buddy punching was definitely part of the decision," Greathouse says. "It was never an out-of-hand problem, but it did happen."
Buddy punching—the practice of punching another employee in or out when they aren't there—is one of many forms of time theft.
A 2009 study conducted by Harris Interactive Inc. showed that 21 percent of hourly employees admit to stealing company time. While only 5 percent participated in buddy punching, 69 percent said they punch in and Read more…